As a web developer in a startup accelerator it was commented on that my laptop was "not what they would have expected".
In 2012 I bought a high end laptop. I viewed it as an investment since it was the item I spent the most time using. In 2014 I sold off that laptop for almost £500 and traded it in for a used business laptop which cost me £165 which I'm still using in 2017.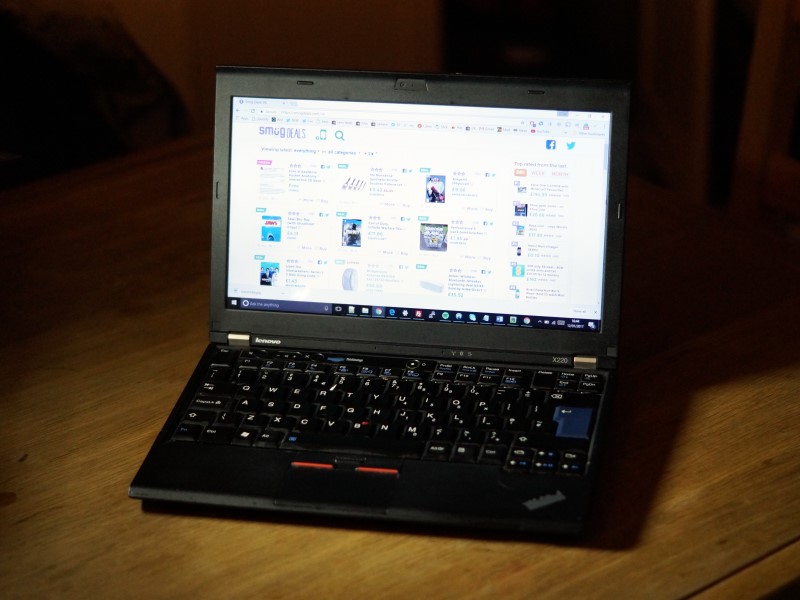 I love my Lenovo X220. I fitted an SSD hard drive (faster but smaller capacity) and maxed out the RAM and it handles everything I throw at it. It has far better portability and battery than its predecessor.
A used laptop can offer outstanding value for money. On Smug Deals the best recent deal was £349.99 and came with an Intel i5-6200U achieving a speed benchmark of 3933.
My laptop scores 3553 meaning the 2017 laptop costing £350 is only 10% faster than my 2011 laptop that cost me £165.
Used or new you should search for the CPU at cpubenchmark.net to compare different laptop performance. Buying used you should also consider the condition of the laptop and accept batteries can lose capacity with age but are replaceable.
A great way to find deals is to search eBay laptops by price with the query "i5 warranty" as these tend to be refurbished business laptops. Then find one with the features and condition you require.
My pick at the time of writing was a super portable HP EliteBook 2170p with 8GB RAM, 180GB SSD, Intel i5-3427U (scoring 3536) and 1 year warranty for £155.
The CPU of another highly rated recent laptop deal for £199 scored 2128 , substantially slower than an older and cheaper used laptop.
Why so cheap?
Business laptops new are more expensive and better built than consumer laptops. My laptop would have cost over £800 new. They are typically bought in bulk on 3 year service agreements. Once the three years is over the market is flooded with them.
It used to be that computers would upgrade so quickly your new machine would be obsolete in months. This rapid advancement has ground to a relative halt.
Your laptop is something you probably use quite a lot - so make sure it's something you like. There is a little bit of luck in the condition it arrives in and you don't get the benefits of a new laptop warranty - but if it's half the price you'd pay for a new laptop you could just buy another if it broke.
If your laptop has Windows 7 or 8 it's still possible to upgrade to Windows 10 for free if you use assistive technologies. If you don't then go to start and type in and then open "Magnifier". Congratulations, you just qualified for the free upgrade. There are also video guides for upgrading to an SSD hard drive and installing additional RAM yourself for further performance gains.
Used business laptops are solid workhorses that can offer incredible value for money so make sure you take a look. If you'd prefer to buy new simply search for "laptop" at the top of the page to see the latest and best from our deal engine which collects every deal in one place so you never miss a deal.
If you found this article useful don't forget to like and follow us below for the latest deal updates and ways to save money.